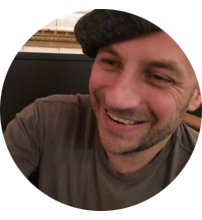 Mark Hillman
Mark is Banksy. Maybe. The Banksy too, not just some clown who works in a bank.

How? asked no one, ever. Well, many (many) moons ago he was 3D's body double in a Massive Attack music video . That's the same 3D outed as Banksy. Just coincidence? You do the math…

The case against him being a world famous conceptual artist? World's End Waste, the Near East College Cyprus, Cambridge School Lisbon, and Home Bar, Shoreditch. Not agencies anyone's heard of. Because they're not agencies. Previously, Builder, Teacher, Bar Manager were Mark's job titles. He's co-written short films; coached youth football teams (think Pep / Jose / Conte combo. But better) and co-established a dance music label (the Gifted Musician, the Business One, and Mark). All before becoming a 29 year-old, bald advertising intern. Yep, a 29-year-old intern.
Stuart McLuskie
An Art Director with an unhealthy interest in streetwear - and in particular Nikes (a collection, at one time, numbering 400+). He has played an active role in London's online footwear communities, which has led him to work on Nike and Adidas ominchannel retail launches, and creatively lead Reebok.co.uk.

He has collaborated with London independent fashion label Goodhood and has contributed t-shirts from his collection to publications and exhibitions. And a winning Umbro Specali football boot design got his name in sneaker 'bible' - Sneaker Freaker.